Portal Mariliense, 6/outubro de 2017
O aluno de doutorado Leandro Mercês, do Instituto de Física Gleb Wataghin (IFGW – Unicamp), teve seu trabalho premiado na 16ª edição do Encontro da Sociedade Brasileira de Pesquisa em Materiais (SBPMat), que ocorreu em Gramado (RS) entre os dias 19 e 14 de setembro de 2017. O Encontro da SBPMat é considerado um dos maiores eventos científicos da América Latina e reúne anualmente no Brasil pesquisadores de todo o mundo, que trazem trabalhos variados na área de materiais. Neste ano, o encontro contou com cerca de 1500 inscritos, dos quais aproximadamente 60% são estudantes de Ensino Superior. Na programação do evento, quase 2000 trabalhos foram apresentados, em diferentes formatos, dentro de vinte e dois simpósios e dois workshops.
Imagem da apresentação "Long-range coherent charge transport in physisorbed molecules"
no Simpósio I do XVI Encontro da SBPMat (11/09/2017 – Gramado/RS).
Leandro Mercês, que desenvolve a parte experimental de seu doutorado no Laboratório Nacional de Nanotecnologia (LNNano), apresentou o trabalho "Long-range coherent charge transport in physisorbed molecules" sob a forma oral no dia 11 de setembro, para o público do Simpósio I (Organic Electronics and Bioelectronics: Fundamentals and Applications). Sua apresentação contemplou recentes resultados de trabalhos que vêm sendo desenvolvidos pelo grupo de Dispositivos e Sistemas Funcionais (DSF) nas dependências do LNNano, sob orientação do Prof. Dr. Carlos César Bof Bufon, líder do DSF. O trabalho apresentado tratou de assuntos relevantes para a eletrônica molecular, abrangendo desde efeitos relacionados ao transporte eletrônico na nanoescala até aplicações de junções baseadas em nanomembranas como sensores eletrônicos. Envolvidos nestes trabalhos estão também o pós-doutorando Rafael Furlan de Oliveira e o engenheiro de processos Davi Henrique Starnini de Camargo. O reconhecimento – prêmioBernhard Gross de melhor contribuição oral – foi concedido ao aluno pelo Simpósio I e concorreu com dezenas de trabalhos das áreas de química, biologia, física, ciências de materiais e engenharia. Veja aqui o resumo do trabalho premiado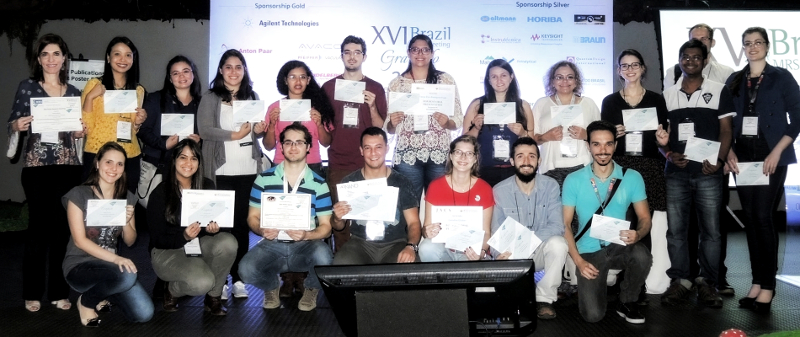 Imagem da cerimônia de premiação, durante o encerramento do XVI Encontro da SBPMat.
Em nome de sua equipe de pesquisa, o Dr. Bufon agradece ao IFGW e ao LNNano pela infraestrutura necessária para desenvolver os trabalhos, ao comitê de organização do XVI Encontro da SBPMat pelo apoio, em particular ao presidente da Sociedade Brasileira de Pesquisa em Materiais, Prof. Dr. Osvaldo Novais de Oliveira Jr., e também às agências que financiam os projetos de pesquisa em vigência no DSF, a dizer, à FAPESP (2014/25979-2), à CAPES, ao SisNANO e ao SibratecNANO.